Finally a alternative solution to complex DCC setting. No more spending time adjusting CV's, adding boosters, reading indexing charts, learning to use JMRI software and complex network wiring with power districts just to run your train.
Imagine, connect two wires for constant track power or use on-board battery to operate your fleet of engines. Each loco has a control module that receives commands thru the handheld radio, not thru the track. Each loco is easily tweaked for optimum running by using a knob to make the adjustments. Consisting takes 10 seconds to create and 2 seconds to remove. Even locos from different manufacturers are automatically matched.  Choose video part one for basic setup and consisting.
Now with DCC mode. Backwards compatible to your existing DCC system. Keep your investment while transitioning to the RailPro system.
Installing in "HO", "ON30" , S, O & G scale locomotives. The first full color touch screen wireless hand controller for operation, sound control and accessories of all your locos. For small scale locos choose the LM-3S with the standard 9 pin DCC plugin socket for power, motor control and headlights. Plus has 6 pin wiring harness to connect sounds and additional lighting effects. For Large scale locos choose the LM-3S-G with a 8 amp stall current, screw terminals for power and dual motors along with dual 5 v output and a 9 pin connector for all your lighting effects.
Large Scale LM-3S-G, $167 with HD sound.

Photo of installation of LM-3S-G in USA SD-70
Click here for complete bundle pricing.
Below: HC-2 Color Touchscreen Handheld Controller w/Direct Radio, $289.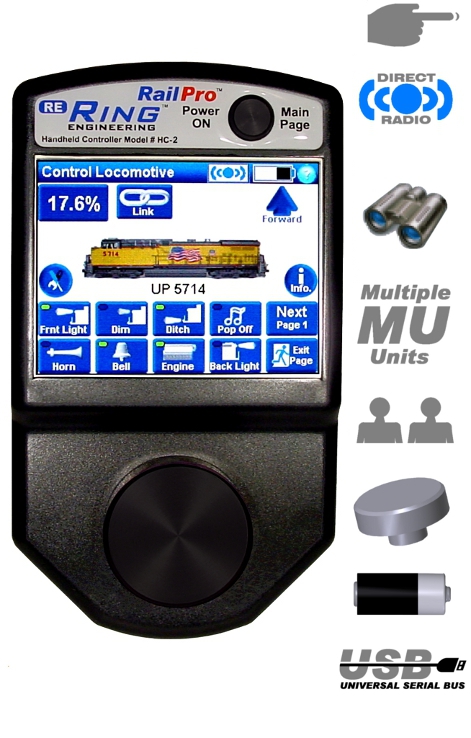 Below: Sample screen shots using the handheld controller.
Below: LM-3S HO/ON30 Scale Locomotive Module with Sound, $99. LM-3 without sound, $59.
Below: RPK-1 Starter Kit with Wireless Color Touchscreen Handheld Controller and Power supply. $389.00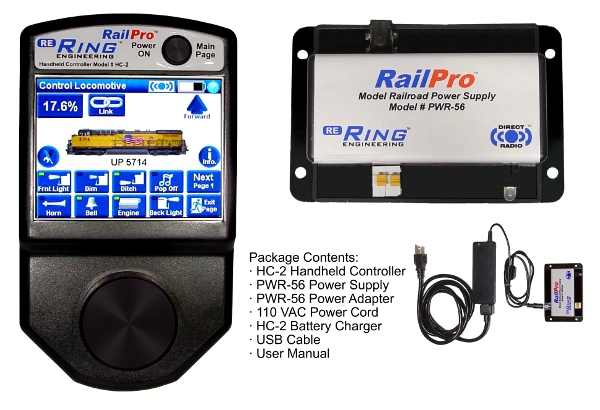 For a complete description of system with videos click on this link:  RailPro Learn more
Below battery installation for Bachmann ON30 steam loco. RailPro w/sound and upgraded speaker installed in tender. 3 hour Li-Po battery inside boxcar.
Installation rates:
Track power with upgraded speaker, $70
Battery power conversion, includes battery, install kit, charger, upgraded speaker, cables, $285.